Types of CCTV Cameras in Australia
No matter what type of business you operate or running a business from your home or another location, you need to secure your home. Security must be carefully considered before you act. You need to get CCTV cameras of a high grade because of the prevalence of CCTVs in the marketplace. A CCTV system with exceptional quality ensures that you'll both enjoy more efficiency and more productivity in your operations. You also need to know what sort of CCTV camera is appropriate for your needs.
Here we have found the 8 most popular types of CCTV cameras that ensure the best security in your home or business in Australia.
Bullet CCTV Cameras
Dome CCTV Cameras
Day/Night CCTV Cameras
Varifocal CCTV Cameras
Network/IP CCTV Cameras
C-Mount CCTV Cameras
Wireless CCTV Cameras
Pan Tilt & Zoom (PTZ) CCTV Cameras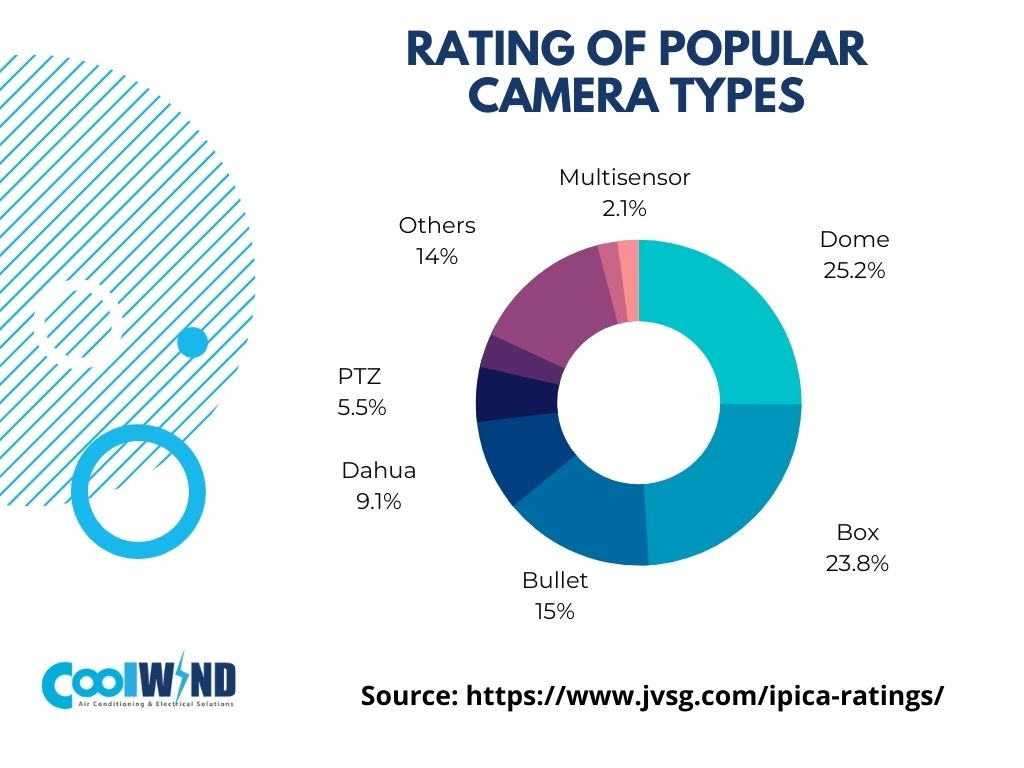 CCTV Camera Types and Specification with a detailed overview
1. Bullet CCTV Security Cameras
Bullet cameras are a good option for outdoor use as they are lengthy and cylinder-shaped. They have a particular advantage in situations where long-distance viewing is required. The cameras are enclosed in protective shells to prevent them from dust, grime, and other natural factors. To install the cameras, a mounting bracket is required, and they may have either fixed or variable focus lenses, depending on the needs of the device they are meant to be used in.
Bullet cameras are one of the most popular types of security cameras in Australia because of their long-range performance and their ease of installation. Because of their superior range, bullet cameras are best for observing expansive areas. They are also easy to install, as well as having a form that allows for the use of larger lenses. Bullet cameras designed for outdoor use include a slightly raised lip to shield against sunlight and rain.
One disadvantage of bullet cameras is that they can be bumped off, therefore having to be adjusted by hand. Bullet cameras only aim straight ahead, while dome cameras can track a broader area as the lens turns, so you can see a whole room.
Bullet CCTV cameras are commonly used in:
Schools
Backyards
Airports
Traffic intersections
Gas stations
Car parks
Hospitals
Libraries
Religious sites such as churches, temples, etc.
Some specific benefits of bullet CCTV cameras:
Weatherproof
Wide lenses
High resolution
Night vision
LPR (Licence Plate Recognition)
2. Dome CCTV Security Cameras
The dome-shaped security cameras are named for their spherical shape. The camera is shielded by a see-through, protective dome. While dome security cameras may be utilized both indoors and outside, many company owners, such as those in hotels, restaurants, and retail establishments, have chosen to utilize dome cameras indoors, as their discreet form allows them to be concealed. One advantage of a dome camera is that it might be difficult to tell where it is pointed because of the dome. Dome cameras also have the advantage of being more resistant to vandalism as the lens is shielded. These vandal-resistant dome cameras are enclosed in strong enclosures, making them hard to damage.
Dome CCTV cameras are commonly used in:
Bank and related financial institutions
Race bookies
Casinos
Gas stations
ATM and CDM locations
Libraries
Prisons
Military camps
Some specific benefits of dome CCTV cameras:
Smart design and shape
High resolution
Night vision
Vandal-resistant
Weatherproof
Variable focal lengths
3. Day/Night CCTV Security Cameras
These cameras have been designed to function efficiently in any lighting conditions, regardless of how brilliantly illuminated their surroundings are. At all times of the day and night, they will capture clear video pictures that will not be affected by variations in lighting situations. This is made possible by the use of its highly advanced imaging processors.
Certain types of day/night cameras are more competent than others. For example, some capture colour in low light using intensifier technology, monochrome in low light without IR LEDs, and monochrome with adaptive IRs in almost total darkness. Certain cameras may be adjusted for the environment, including light threshold and infrared intensity, and are equipped with an integrated heater and anti-fog glass to help prevent condensation in nearly any weather situation.
Day/night CCTV cameras are commonly used in:
Gas stations
Public grounds
Backyards
Prisons
Car parks
Building outsides
Factories
Military camps
Homes
Some specific benefits of day/night CCTV cameras:
High-quality image processing even with a completely dark environment
High resolution 
Wide lenses
Weatherproof
4. Varifocal CCTV Security Cameras
A varifocal CCTV security camera allows you to vary the focal length, angle, and zoom, which makes it a better choice for filming in a square room where the middle of the space would be a "dead zone" with any other camera equipped with a fixed lens. It maintains focus no matter how far you zoom in or out. Varifocal cameras provide a visual quality that offers high-resolution pictures. Depending on how much you can spend, they can provide resolutions ranging from 720p to 4K. Thus, there is no risk that recordings of the subject may ever seem grainy or distorted.
Varifocal CCTV cameras are commonly used in:
Casinos
Bank and related financial institutions
ATMs and CDMs
Highways
Prisons
Some specific benefits of varifocal CCTV cameras:
Adjustable focus
Ability to zoom in and out
Anti dead zone 
Wide-angle lens
High-resolution images
Low light working condition
5. Network/IP CCTV Security Cameras
IP cameras or network cameras, often known as Internet Protocol cameras, send and receive video over the internet or a local area network (LAN). IP cameras are able to connect to a network through WiFi or a PoE connection, just like their name indicates. They are ubiquitous in business video surveillance, and they are sometimes paired with network video recorders (NVRs) and digital video recorders (DVRs). To make sure that photos are accessible to people in various places across the world, these cameras broadcast footage live via the internet. The video's bandwidth is compressed to reduce the size. It's dependable to find good content online. The archival storage of archive footage is conducted on network video recorders (NVRs) or in a secured software system.
Network/IP CCTV cameras are commonly used in:
Industrial buildings
Homes
Banks
Highways and traffic intersections
Prisons
Military camps
Retail stores
Office areas
Some specific benefits of Network/IP CCTV cameras:
Power over Ethernet (PoE) capability (PoE technology allows you to provide electric power through a twisted-pair Ethernet cable to powered devices, including wireless access points, IP cameras, and VoIP phones. This technology, in addition to the data cable, carries, and allows you to power these devices.)
Remote access
Cloud storage
Encrypted video data transmission
Low bandwidth usage (steady-state streaming)
High-definition video quality
Artificial intelligence-based analytics access
6. C-Mount CCTV Security Cameras
People who want to adjust the field of view may choose C-Mount CCTV cameras as their best option. They may swap out their removable lenses to keep track of various distances. Because they are heavy, C-Mount cameras function as a visual deterrent to crime, as bullet cameras do. C-mount cameras have the advantage of having removable lenses that may be changed to meet various purposes. The 40+ foot coverage range of C-mount cameras is made possible by the fact that they are able to apply different lenses, whilst ordinary CCTV lenses are limited to 35-40 foot ranges.
C-Mount CCTV cameras are commonly used in:
Public parks
Playgrounds
Factories
Schools
Prisons
Streets
Industrial buildings
Some specific benefits of C-Mount CCTV cameras:
Weatherproof
Noticeable appearance
Ability to add extra lenses
Vandal-resistant
Can use indoors
7. Wireless CCTV Security Cameras
When it comes to safety and monitoring, wireless CCTV security cameras opened up a whole new world of possibilities for freedom and flexibility. The fact that they can run independently of a wired network allows you to put them much further and broader than you ever could with wired networks. Facilities that are out of reach of ethernet cables can now benefit from the full range of high-end video security features, such as 4K resolution, high-performance sensors, advanced zoom, and motion detection, among other features, without sacrificing quality. The flexibility of an untethered experience is provided by a wireless security camera system, which includes everything you need.
Wireless CCTV cameras are commonly used in:
Construction sites
Banks
Schools
Parking lots
Event areas
Retails stores
Temporary facilities
Public parks
Home and indoor rooms
Some specific benefits of Wireless CCTV cameras:
Can use WiFi networks for data transmission
Encrypted video data transmission
Low bandwidth usage (steady-state streaming)
High-definition video quality
Artificial intelligence-based analytics access
Motion detection
Remote access
7. Pan Tilt & Zoom (PTZ )CCTV Security Cameras
A PTZ (Pan Tilt Zoom) cameras are specific types of security camera that allow your security team to have total control over the footage captured. The camera lens may be moved left and right, tilted up and down, and zoomed in and out with the press of a single button. It is the best option if you have a security officer on site who is responsible for monitoring a live video stream. They're generally used to monitor large open areas that require a 180- or 360-degree view, and they're typically installed at guard stations where active people may operate them using a remote camera controller to ensure that the area is properly monitored.
They can also be programmed to automatically track motion-triggered activities or to conform to a pre-determined schedule, depending on the camera or software used. When used in conjunction with a bigger security system, PTZ cameras are typically used to follow movement while a fixed camera captures detailed images of the scene. While the term "PTZ" refers to a certain sort of camera hardware, the term "ePTZ" refers to a software function. PTZ (electronic pan-tilt-zoom) security cameras do not physically move; instead, they employ digital zoom to create the illusion of a pan-tilt-zoom effect on a stationary camera.
This allows camera operators to enlarge certain areas they want to focus on while also preventing the coverage gaps that are characteristic of standard PTZ cameras from occurring. With some systems providing 360° coverage, an ePTZ camera may be a valuable tool for delivering a PTZ-like experience while still recording the whole field of view and capturing high-quality video.
PTZ CCTV cameras are commonly used in:
Airports
Museums
High-end retail stores
Jewelleries
Religious sites such as churches, temples, etc
Playgrounds
Guard stations
Industrial facilities
Some specific benefits of PTZ CCTV cameras:
Ability to program and automate
Motion detection
Object tracking
Wide-angle view
Remote access
Ability to zoom in and out
Even works efficiently with dark lightning conditions
So we hope you have a better understanding of the types of CCTV cameras you could need. We're here to assist you with any additional questions you have. Please contact CoolWind support anytime.
Follow us on : Facebook Page